The Illusionists 2.0
Live at Moon Palace Cancun

The biggest show of magic, blockbuster in the history of Broadway arrives at the Moon Palace Arena.
After sweeping the box office records around the world, The Illusionists – Live From Broadway ™ now captivates Cancun. This spectacular show that leaves the spectators speechless, gathers seven of the most incredible illusionists on earth. Filled with funny magic tricks, tricks that defy death and wonderful acts, The Illusionists – Live From Broadway ™ will amaze audiences of all ages.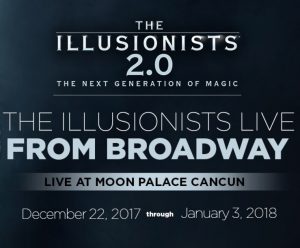 From December 22nd, 2017 through January 3rd, 2018.
Accepting Reservations from now until January 3rd, 2018
Click here to visit the Illusionists website and buy your ticket.
STP Caribe
Looking for Transportation to the show?
When it comes time to vacation in Mexico, Cancun simply can't be beat. The white sand beaches and eye-catching nightlife draw hundreds of thousands of travelers per year, contributing to over one-third of Mexico's total tourism revenue. And STPCaribe can help you see all of it!
Event Details
The Illusionists 2.0
Dreams Tulum, Spa and Resort
Live at Moon Palace Cancun
Dates:
From December 22nd, 2017
Through January 3rd, 2018